Congratulations on your new Coast account! Not sure what to do first? Watch our quick start guide and follow through these 5 steps:
Step 1: Quick things you need to know about Coast
Coast is organized by Groups. Each group has two parts to it: messaging and workflow. When you click into a group, the first part you'll see is the messaging section in the middle of your screen. The workflow section is on the right side of your screen.
You can create unlimited groups. This means you can have multiple workflows, different groups for specific teams, or groups for specific locations. 
Invited users can only see the groups that they are in. Make sure you add your invited users to the appropriate groups. Choose from our permission settings to grant users different view access.
Coast is also available on mobile, so you can take all your messages and workflows on the go. Click on the links below to download Coast for your mobile device.

Download Coast for Android
Download Coast for iOS
Step 2: Inviting your team to Coast
Your Coast account is made up of groups where people can communicate and work together. To invite your team to your account:
On the left hand side, click the drop down arrow near your profile picture .
Click on Directory.
Click Invite Someone.
Enter the person's full name and either their email or phone number.
Click Send Invites.
You can also share an Invite Link. Click Copy on the same page and send that to anyone you want to invite.

Note: Everyone that you invite will be automatically added to your All Teams chat group. For other groups in your account, you'll have to add them directly to it.
One thing to keep in mind that your invitee will need to use the same phone number or email that was used to invite their account to log into their account.
Step 3: Adding the right workflows to your account
As you create your account, you may have added a few workflows like shift scheduler, task management, and work orders. To make sure you're using the workflow that best suits your account, check out our Workflow Library:
Click on the pencil icon in the upper left hand corner
Click on New Workflow
Choose the appropriate workflows to add to your account.
Once you have all the workflows you need for your account, make sure to add your team members to the appropriate ones.
Step 4: How to navigate and use each workflow
Home Screen
The left hand side contains all the groups that you are currently in for your Coast account. Click into a workflow that you've added and want to use for your account. Keep in mind that other team members may see different groups than you if they have not been added to certain groups.

I'll be clicking into Shift Scheduler to demonstrate how to navigate and use the shift scheduler workflow. Using and navigating other workflows will be almost exactly the same.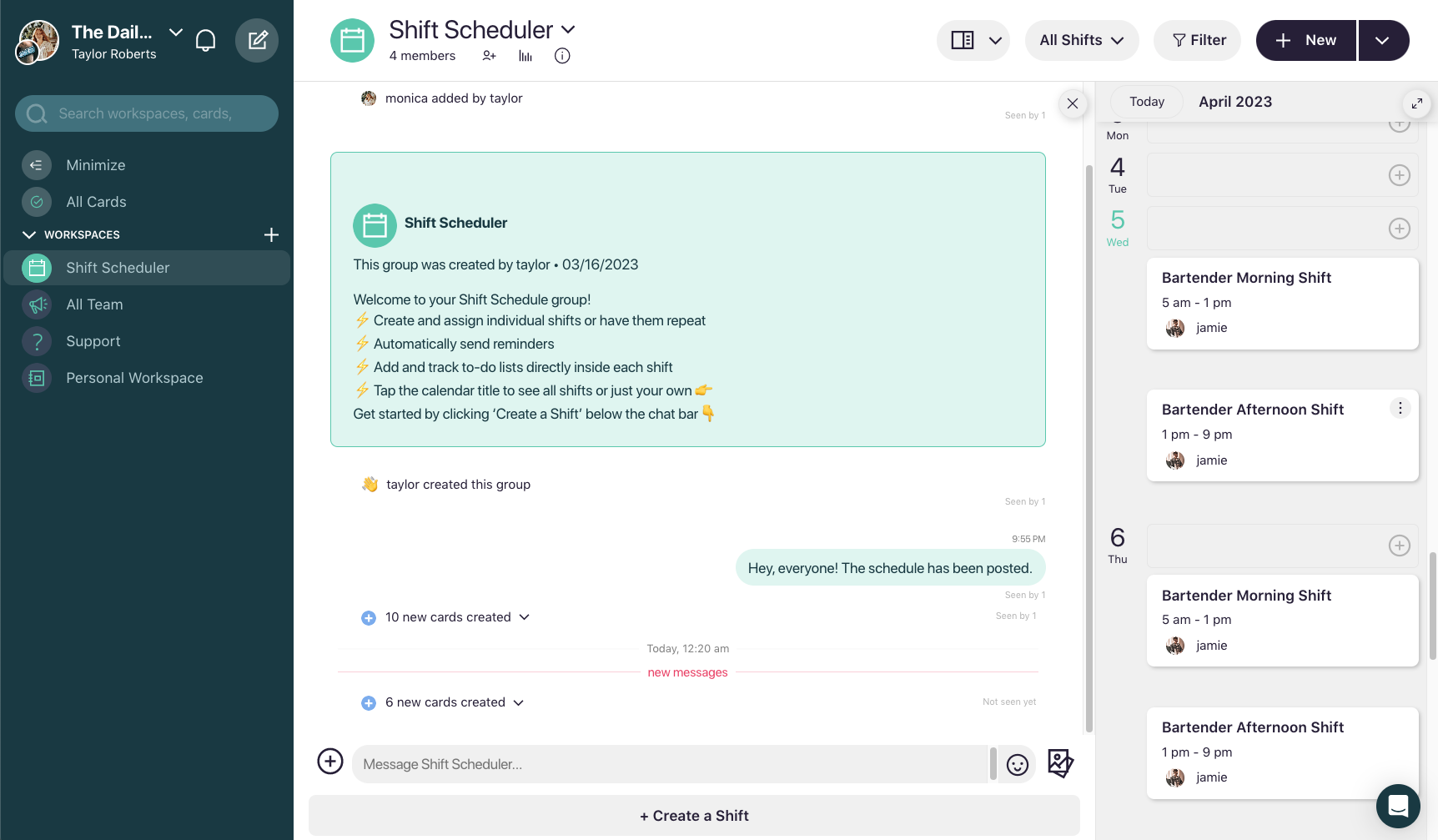 Message component of a workflow group
When you click into a workflow, the middle part of your screen will be the messaging component of the workflow. You can use this section to discuss anything related to that workflow with your team.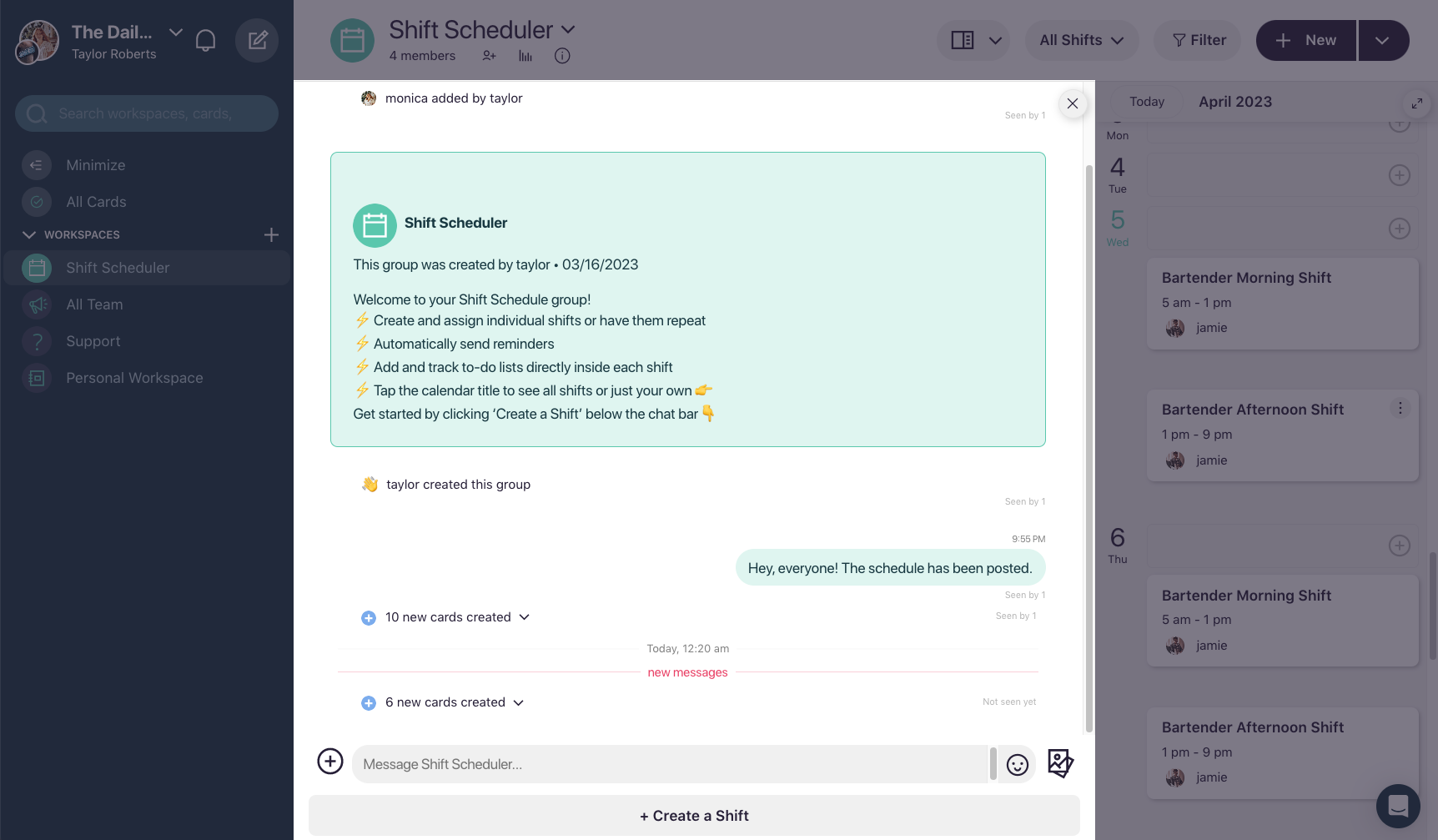 Workflow component of a workflow group
The right hand side of a group is the workflow component. This is where you still creating shifts if you're using the Shift Scheduler workflow. For other workflows, this will be the same area where you will doing specific actions for that workflow. Just click the + New button to add cards to your workflow.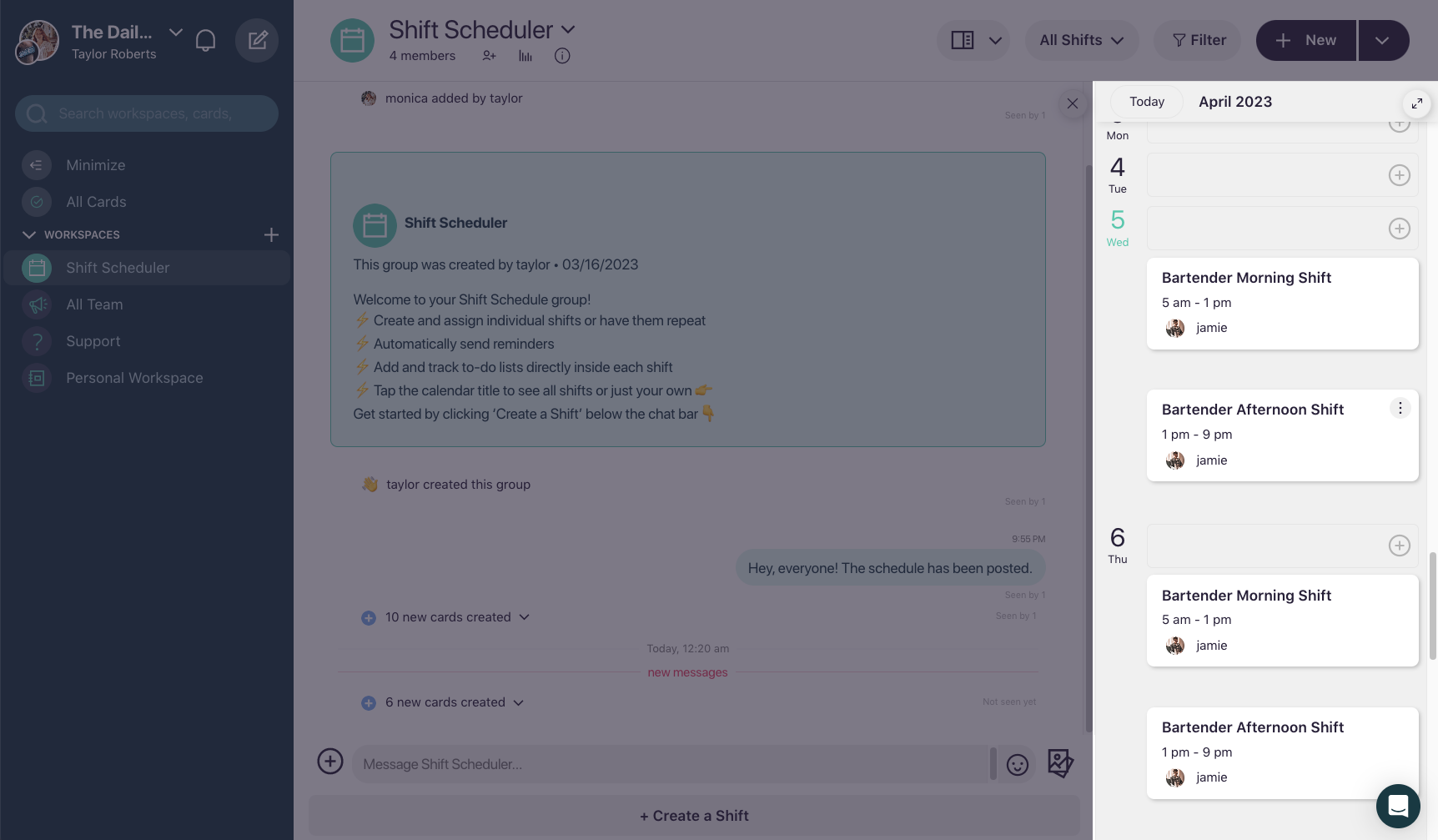 If you're unable to assign cards to your team, make sure your team has been added to the workflow group by clicking on Members.
Step 5: Using the workflows in your account
Below, we'll provide more helpful articles on how to use each workflow that's available in the workflow library. Here's a few tips before we dive into each one:
To delete a Group, just click into the group, select the group's name in the top middle, and then scroll down and click Archive this Group Chat.
To invite your team to a Group, click into the group, select the group's name in the top middle, and then scroll down and click Add new member.
To remove a member from a group, click into the group, select the group's name in the top middle, and click the 3 dot icon next to the member you want to remove, and click Remove from Conversation.
Step 6: Learn how to navigate the different workflows 
↔️ Shift Swaps